So, once again in the last two weeks, the Sox will lock up against the Detroit tigers. This time around the Series is in Detroit, and the Tigers look to slow the momentum of the hottest team in baseball right now. Since starting the season with a paltry 0-6 record, the Sox have turned it around to the tune of winning 27 of their last 43 games. So, lets look at how this one plays out and take our guesses.
Thursday 05/26.
-Brad Picks:
Red Sox Win
-Randy Picks:
Red Sox Win
Alfredo Aceves [1-0, 2.42ERA] v/s Max Sherzer [6-1, 2.98ERA]
-The Good:
Aceves fired five strong innings against the Cubs last time out, and has held opposing hitters to a paltry .185 average this year. Combine this with the fact that the Sox offense is starting to click on all cylinders, and we could be looking at a good afternoon for the old team.
-The Bad:
Sherzer. Seriously, this kid has been awesome this year. He struggled his last time out versus the
NL's whipping boys
, but he should be served well with a return to Comerica, where's he's been a great pitcher for his Tigers this year. Detroit has a couple very good hitters in this lineup, and it would serve the Sox pitchers to be very careful in this one.
My star of this game is going to be Crawford
, who I'm assuming is returning to his normal All-Star self as of late.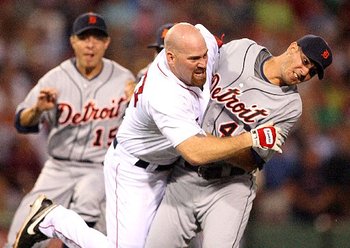 Friday 05/27.
-Brad Picks:
Red Sox lose
-Randy Picks:
Red Sox Win
Tim Wakefield [1-1, 4.50ERA] v/s Rick Porcello [4-2, 3.08ERA]
-The Good:
None. Tim Wakefield is both unpredictable and suspect at this point. The only good that can come out of this is that the offense explodes and scores more than the five Wakefield is likely to give up. Wakefield threw well his last time out, and has always been the suitor to tons of run support, but at this point, I've learned to never count on Wakefield for a win.
-The Bad:
See "The Good". Porcello is on an absolute tear as of late, having only allowed 7 earned runs in his last six starts.
-The Sox bats have their work cut out for them in this one. Porcello will walk guys, so they have to wait him out.
-I
look for Youk to be the star here, if there is one, since he seems to be pounding the guys that he has a bad history with this year
. Porcello beaned Youk the last time they faced each other, and Youk took matters into his own hands. Right before Porcello slammed him to the ground and whipped his ass.
Saturday 05/28.
-Brad Picks:
Red Sox Win
-Randy Picks:
Red Sox Win
Clay Buchholz [4-3, 3.30ERA] v/s Andrew Oliver [no stats]
-
The Good:
Clay Buchholz. In his last five starts, the young fireballer is 3-0 with a 1.64 ERA. He was the hard luck loser his last time out, where he spun a gem in Cleveland. He has also held opposing hitters to a sub .200 batting average over those five starts. I look for him to continue his domination for now, but like I've already mentioned, he has to be careful in this one.
-The Bad:
Andrew Oliver. The Tigers are calling up the big, powerful lefty from Triple-A Toledo to toe the bump in this one. He was good, not great, in Toledo this year, but when you combine the fact that the Sox rarely hit guys they haven't seen too much and the fact that he's a lefty...should be a good game.
-My star this game is Buchholz, who I feel is on such a tear right now, he's going to be hard to beat.
Sunday 05/29
-Brad Picks: Red Sox win
-Randy Picks: *Red Sox lose
Josh Beckett [4-1, 1.69ERA] v/s [4-3, 3.42ERA]
-The Good:
Josh Beckett, and his league-leading ERA, rebounded breaking ball, unhittable change-up, and return to his ace days of a couple years ago. Honestly, I've never given up on Beckett being a dominant starter, but he pushed my loyalty last year. A lot. Randy and I had several discussions where I was forced to agree with him. Since the days of Pedro, Beckett has clearly been one of my favorite players, and nobody is happier (sans Theo Epstein) than me with this turn-around.
-The Bad:
Verlander. He's just as good as anyone in baseball on any given night. Last time out in Fenway, he pitched eight innings of three-run ball before taking a ND in the ninth. He can shut down any offense in baseball, including the Sox.
-My stars this game are Beckett and AGon.
Agon is a serious candidate for the best hitter I have ever seen.
Lets get 'em, Sox. Keep this train rolling!!
*lets keep the Beckett streak going